What is Servlet
The Servlet is a type of Java class used in Java web applications which enhances the capabilities of a server. These Java servlets runs on a web application server container. These servlets are used to generate HTML content to be shown on the Web browser. At the lowest level it is nothing but a Java class.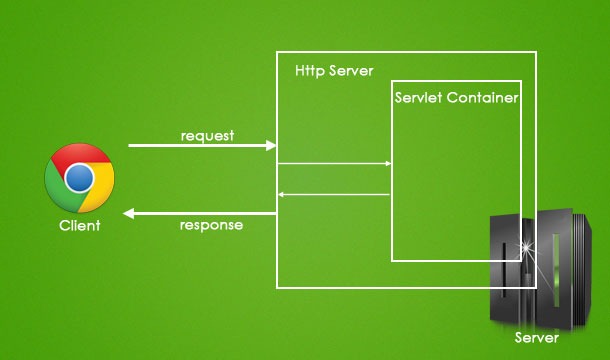 Servlets are designed to respond to a request from user's browser and send back response content. A servlet is mostly implemented for the HTTP protocol and thus the name HTTP Servlet. In the Java platform Servlets are used to generate the dynamic HTML content in general. They can also be used to create and respond with XML, excel, pdf, json and any other formats as required.
Servlet Request Response Model
In general, web browser will be the client in the servlet request response model. The browser will send a request and it will be served by a HTTP server. In the backend, HTTP server will utilize the services of a servlet container to generate the dynamic content.
Important classes and packages of the Servlet API are,
GenericServlet
HttpServlet
ServletRequest
ServletResponse
javax.servlet.http contains HTTP specific servlet classes
Servlet Overview
Servlet is a server-side technology in Java platform stack.
Servlet responds to an incoming request from a browser client with a response.
Though initially meant for generating HTML content in web application, nowadays used mostly at the controller layers.
JSP has taken over the job of generating the HTML content. But under the hood, JSPs generate servlet classes, which is the real element responds to the requests.
Servlet Releases
Servlet 3.1: May 2013: Non-blocking I/O, HTTP protocol upgrade mechanism
Servlet 3.0: Dec 2009: Pluggability, Ease of development, Async Servlet, Security, File Uploading
Servlet 2.5: Sep 2005: Requires JavaSE 5, supports annotation
Servlet 2.4: Nov 2003: web.xml uses XML Schema
Servlet 2.3: Aug 2001: Addition of Filter
Servlet 2.2: Aug 1999: Becomes part of J2EE, introduced independent web applications in .war files
Servlet 2.1: Nov 1998: First official specification, added RequestDispatcher, ServletContext
Servlet 2.0: Jun 1998: Part of Java Servlet Development Kit 2.0
Servlet 1.0: Jun 1997: Initial release
This Servlet tutorial was added on 27/07/2014.