What is Cloud Computing?
Some time back I created a presentation (ppt) for a session on introduction to cloud computing. The PPT slide used will help to understand "what is cloud computing?". I thought of sharing the PPT with you. Download the presentation (PPT) on what is cloud computing.
Cloud Computing Origin
"Comes from the early days of the Internet where we drew the network as a cloud… we didn't care where the messages went… the cloud hid it from us"
– Kevin Marks, Google
"The emerging cloud abstracts infrastructure complexities of servers, applications, data, and heterogeneous platforms"
– Jeff Bezos, CEO, Amazon.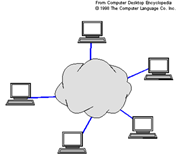 What is Cloud Computing?
Cloud computing is a model for enabling convenient, on-demand network access to a shared pool of configurable computing resources (e.g., networks, servers, storage, applications, and services) that can be rapidly provisioned and released with minimal management effort or service provider interaction. This cloud model promotes availability and is composed of five essential characteristics, three service models, and four deployment models.
– National Institute of Standards and Technology (NIST) def–v15.
Cloud Computing – Essential Characteristics
Location Independent Resource Pooling
Measured Service
Rapid Elasticity
On Demand Self Service
Broad Network Access
Cloud Computing – Service Models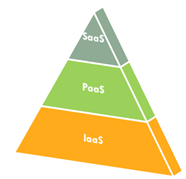 Software as a Service (SaaS): Use provider's applications over a network
Platform as a Service (PaaS): Enables developers to build applications on scalable systems and deploy as a service to customers. (Example: Google App Engine)
Infrastructure as a Service (IaaS): Provide processing, storage, network capacity, and other fundamental computing resources where the consumer is able to deploy and run arbitrary software
Cloud Computing – Deployment Models
Private cloud: Enterprise owned and operated for an organization only.
Community cloud: Shared infrastructure for specific community.
Public cloud: Provided to the public, generally large-scale.
Hybrid cloud: Composition of two or more clouds.
Cloud Computing Properties
Cloud computing consists some or all of the following properties:
Massive scale
Homogeneity
Virtualization
Resilient computing
Low cost software
Geographic distribution
Service orientation
Cloud Computing Architecture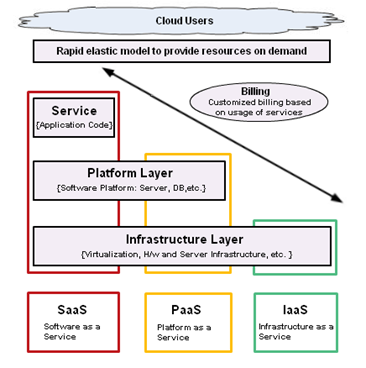 Cloud Computing – Applications
SaaS
Applications for Collaboration: email, IM
Online storage: Files, photos, music, movies…
Management: Calendar, project management
Office productivity: Word processor, presentations, spread sheet
Tools: Media player, compression utility, cloud desktop, antivirus
PaaS
Applications are unlimited. Type of application is limited by the developer's knowledge only.
Cloud Computing – Advantages
Simplicity – easy to deploy and use
Pay as you use – pay only for the services you consume
Cost saving – Lesser in-house IT costs
Scalability
Backup and Recovery
Easy to upgrade
On demand availability
Cloud Computing – Challenges
Security
Performance
Uninterrupted availability
Integration with in-house IT
Ability to customize to internal needs
Migrating back to in-house
Regulatory requirements prohibit cloud (data storage abstracted)
Cloud Computing Security – Advantages
Shifting public data to a external cloud reduces the exposure of the internal sensitive data
Cloud homogeneity makes security auditing/testing simpler
Clouds enable automated security management
Redundancy / Disaster Recovery
Cloud Computing Security – Challenges
Trusting vendor's security model
Customer inability to respond to audit findings
Obtaining support for investigations
Indirect administrator accountability
Proprietary implementations can't be examined
Loss of physical control
Denial of Service
Download the presentation (PPT) on what is cloud computing
This Misc tutorial was added on 26/05/2013.